Upright Pianos
Browse our selection of new and used uprights.
If you want to buy a piano that has the best sound, touch and appearance then an upright piano is the answer. Many manufacturers have tried copying acoustic pianos using modern technology (i.e. the digital piano), but nothing has come close to the real thing (well, nothing affordable, that is). If you're serious about playing piano, starting off with a good quality upright piano is very important.
>>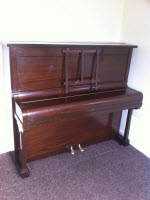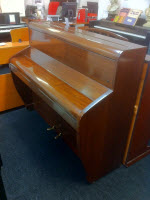 We Buy And Sell Second Hand Pianos -
Call UK Pianos on 020 8367 2080
UK Pianos Shop, Enfield, North London - Call 020 8367 2080
Open Monday to Saturday 10am to 6pm (8 parking spaces)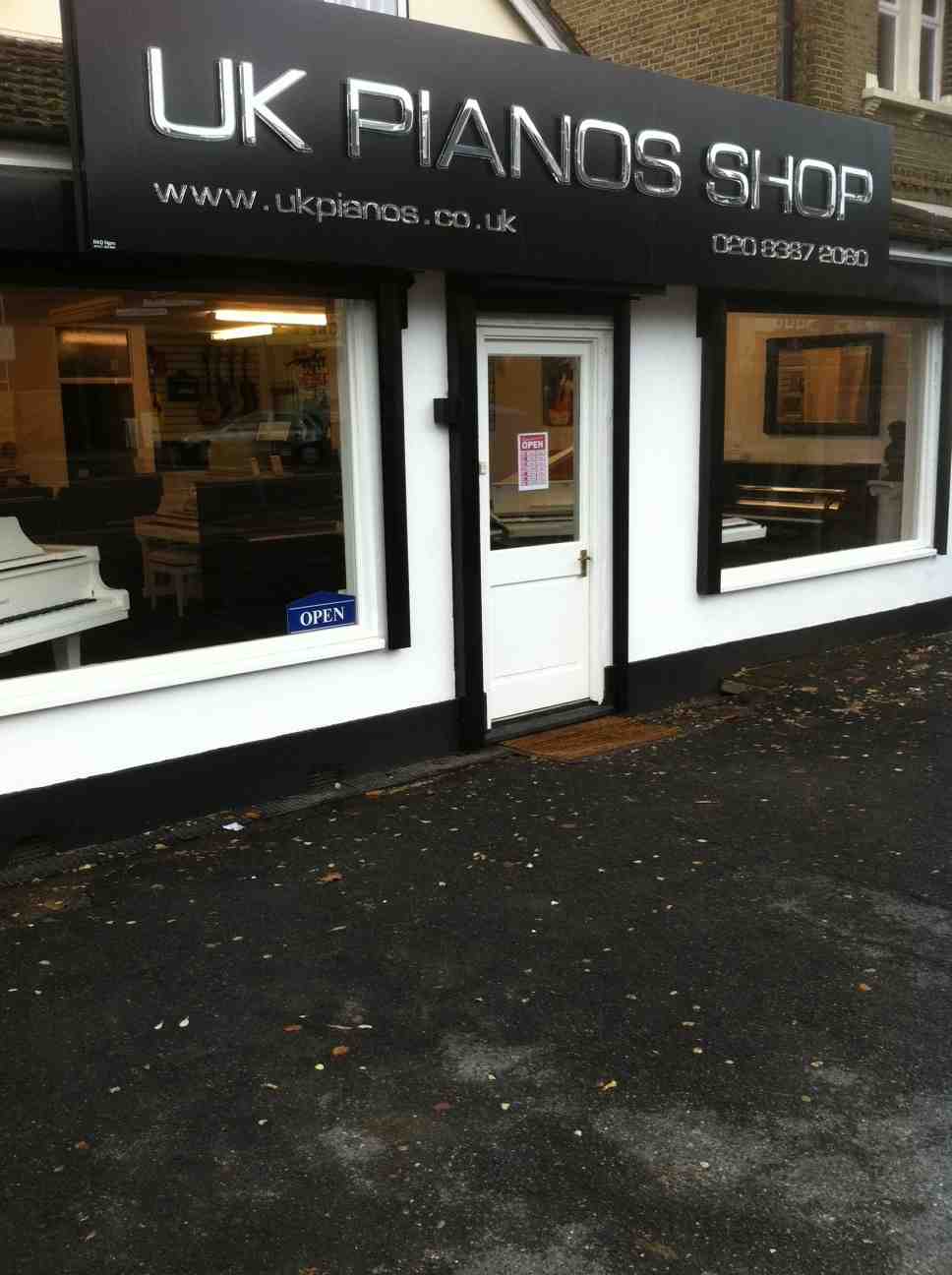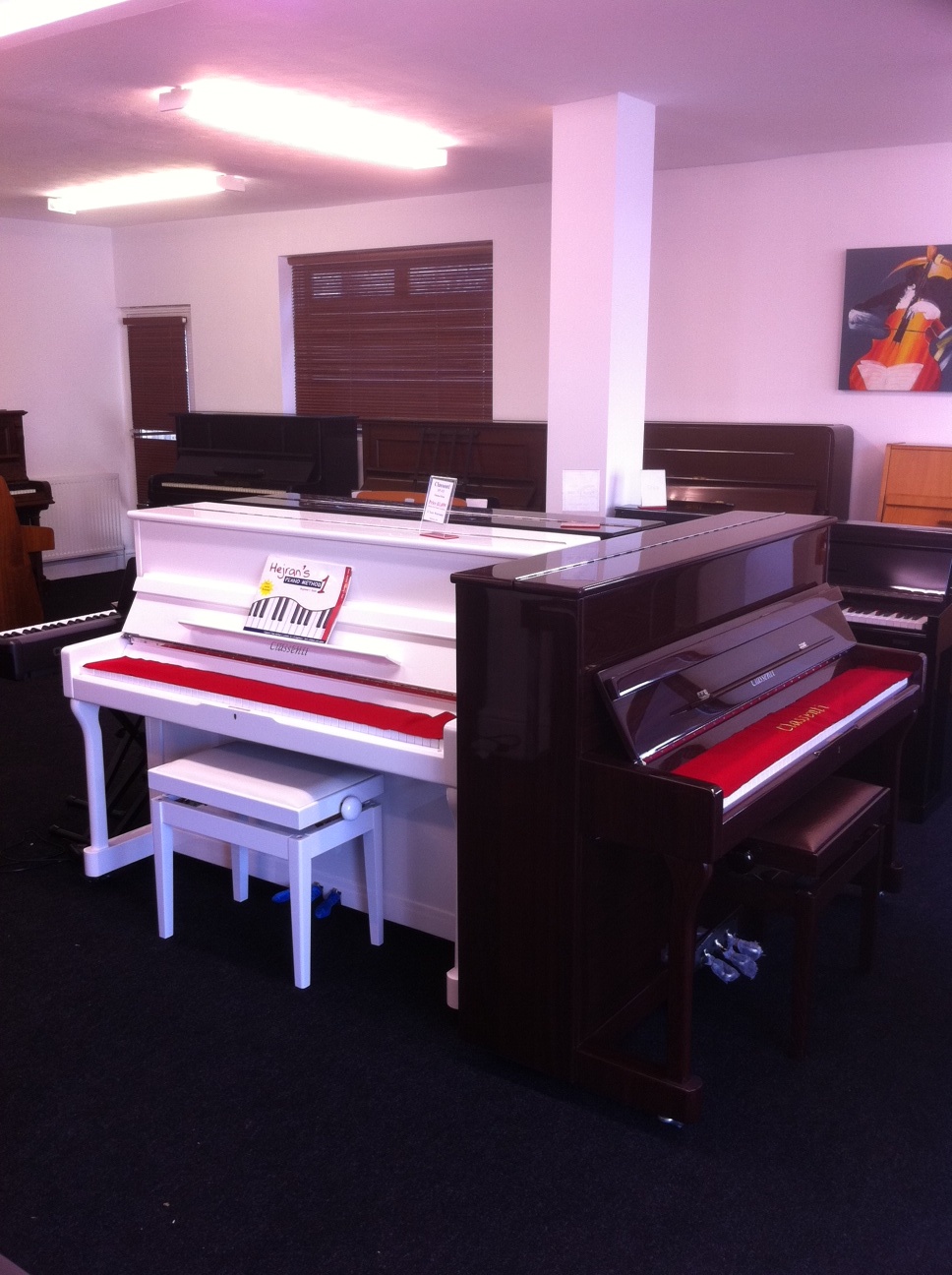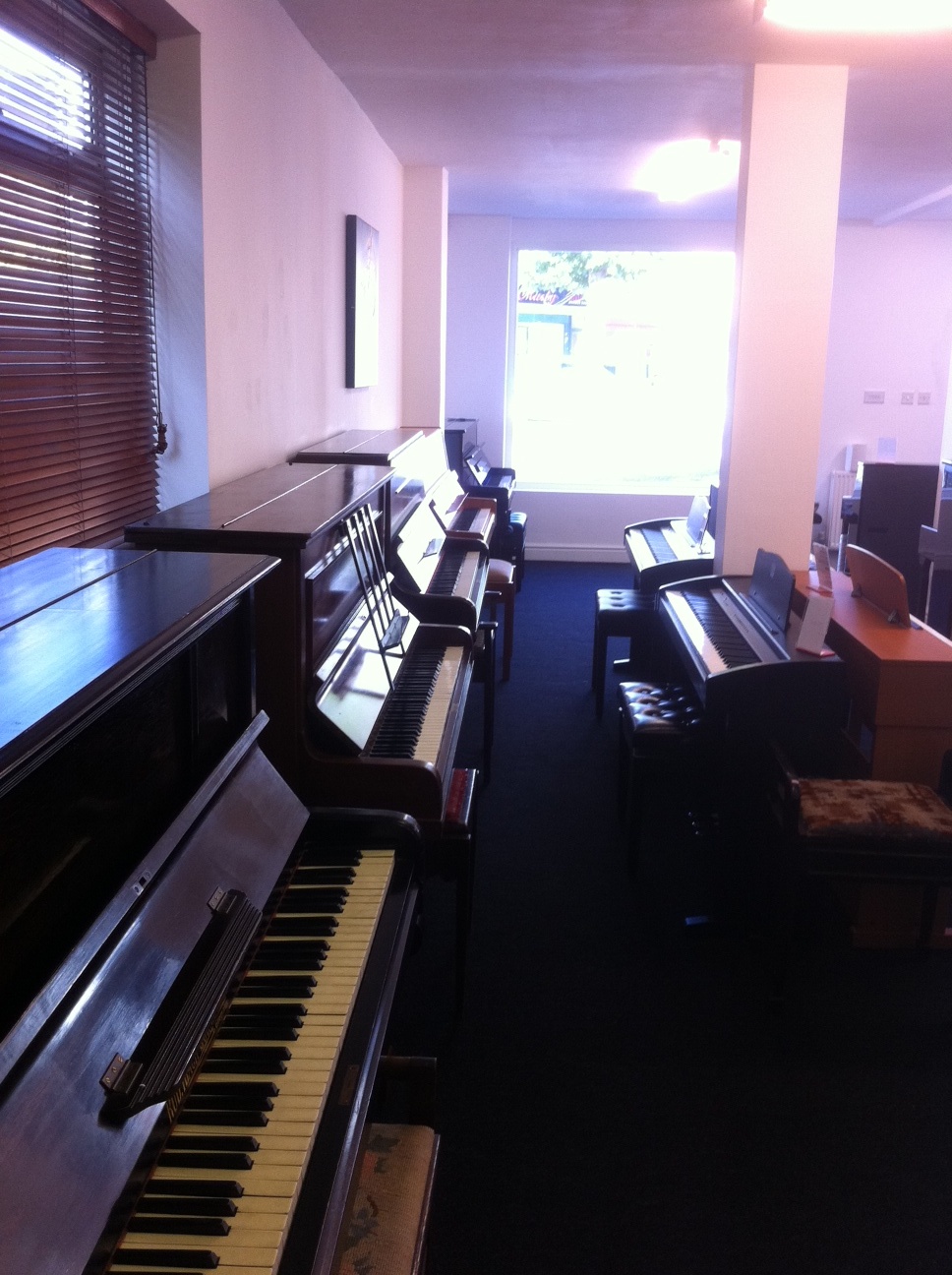 Buy online, over the phone, or visit our North London piano shop
... Upright & Grand Pianos For Sale | New & Used | Piano Rental | 0% Finance
Best Seller
(brand new)




Classenti UP-112
upright piano
Price £2,995 read more
(Or Rent-to-Buy this piano)
Secondhand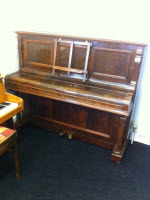 Boyd (used upright)

Price £995
read more




View all brand new upright pianos
View all secondhand pianos
Do you have any piano questions?

Want to ask Graham Howard a question? Send your email to: grahamhoward@ukpianos.co.uk
Ask me a question online...

Main advantages of the upright piano over a digital
With an upright piano you get real sounds and a natural touch. It's also an attractive piece of furniture and is built to last a lifetime. Upright pianos also keep their value well. Providing you've had it tuned regularly and looked after it, your upright piano should have a greater re-sale value over the long term.
Find a selection of upright pianos below. You can compare brands, prices and specifications and read reviews from other users.
Most Popular Brands


Yamaha upright pianos
Yamaha offer the biggest range of uprights. Prices start from under £2,000 and you can always be assured of good quality.


Interest free finance available on selected upright pianos. Click here to see the range.



Classenti Upright Pianos
Nice sounding, solidly built upright pianos with a responsive touch. Definitely worth considering. Excellent value for money.
What our customer's say...
"You have made a young boy very happy!"
Hi Graham

Just wanted to say many thanks for the Classenti piano, my son is enjoying playing immensly, you have made a young boy very happy!
And please would you give the delivery guys a big thankyou for delivering from a long distance.

Lyn Putman
More Makes


Kawai Upright Pianos
Much like Yamaha, Kawai upright pianos are popular in countries that like a bright sound.



Kemble upright pianos
Kemble upright pianos have a very similar sound to Yamahas - the main difference being the cabinet style.



Bohemia upright pianos
Fine quality pianos. European sound. Owned by Bechstein.



Suzuki upright pianos
Not available in the UK anymore. Might be some secondhand deals around though.



Klima upright pianos
Fine sounding pianos. Klima specialize in upright pianos and produce one of the finest quality instruments today. The Klima pianos are mostly built and assembled by hand in a small factory in the Czech Republic.

Confused about which upright piano to buy? Need more information? Join the UK Pianos newsletter and get regular tips on pianos.

"Your site is ideal to cut through the fog of instrument buying"

Your site is really very interesting and I am directing my school mother friends to it as it is ideal to cut through the fog of instrument buying.

Thanks very much again and good luck with everything.

Best wishes
Mariana







Questions and Comments

Hi Graham,

I live in Denmark, but have found you on the web, and enjoyed reading your
tutorials etc.

I will ask your advice regarding the upright pianos classenti UP112 and
bohemia 132 concerto

1. The Classenti are offered on-line, but if I buy one, how does the
warranty work out (I have not been able to find a dealer in DK)? I believe
I have to find a tech. to prep/tune the piano locally.

2. If I get into London, can I try the Classenti at your shop/school?

3. The Bohemia seem to have a dealer in Copenhagen, but I will like to
compare pricing UK+shipping+prep/tuning. Can you help with advice and price
on the Bohemia? Do you sell/ship to DK?

Looking forward to your comments.

Best regards

Tom

Reply/ Hi Tom

Yes, we keep the Classenti UP-112 on display
in our showroom. You are welcome to come
and try it anytime.

The warranty is valid anywhere in the world.

We tune the piano before it leaves our store.
I recommend getting a local tuner to go
over it about one month after delivery.

Yours pianistically,

Graham Howard

--

"You can't beat a good old upright piano!"

Dear Graham, I do want a piano but not ready to buy just yet, but - wait for it - I want an upright overstrung, underdamped accoustic piano. I did purchase a Yahama 95, it was a gift to our social club, but I have to say that I don't think it was worth £600, not at all.

Playing the various voices on the keyboard does not sound, except a tiny bit, like the demonstration voices. The volume is pathetic compared even to my cheap keyboard player. I was all for trying a digital but I think they are over-rated. So, in a month or two, not before, I will be looking for the old fashioned type which, for the money, is far superior.

A good second-hand one will cost me in the region of £400 to £500, and I am in no doubt that this is what I prefer to the digitals. It is amazing how the accoustic pianos have held their price, so there you are, it speaks for itself. It's goodbye from me for digitals and back to the good old days with no gimmicks, just a quality instrument. Of course there is rubbish with the accoustics, but not if you pay a fair price. They are still excellent value for money if they are regularly tuned. I expect you have had a go on an old Joanna. If you played a quality one you too would not bother with digitals, only as extras perhaps.

So it goodby from me Graham, but I do think you are doing a grand job anyway with your advice. Cheers

Audrey

--

Good morning,

I hope you can answer my question?

I have an upright piano, and want to replace the material the covers the back of it. What is is called and can you advise where I can purchase replacement material.

Regards

David

Reply/ Hi David

The material used at the back of your piano
is just plain cotton.

All you need to do is cut it to size, then use
a staple gun to attach it to the piano's back.

Yours pianistically,

Graham Howard

--

Hello Graham,

First of all, I must thank you for your book on choosing a digital piano which is quite informative, though I am yet to decide on what's best for me.
Your email below does seem to describe my dilemma. - I am looking for a piano for my family home use that can take us to the highest piano grade and also be a nice piece of furniture. My initial budget was £750 but have had to keep increasing it to about £1,800 as I researched more into various digital piano alternatives, and I am beginning to wonder whether I need to spend that much on a digital piano, and that process continues to make it difficult to choose.
What would you advise?

Would a traditional acoustic piano serve the same purpose? If so which one would you recommend in that price range?

Please advise.

Adekola.

Reply/ Hi Adekola

If your budget has ascended to £1800 and
you want a nice piece of furniture then
there is no question that an acoustic piano
is the best thing for you.

With an acoustic piano you get the natural
sounds that come from strings and wood.
The key action is also smoother, better
balanced and more sensitive to touch.

The piano I recommend for you is the
Classenti UP-112.

Yours pianistically,

Graham Howard

--

Question/ Hi Graham

I listened to the range of yamaha digitals but whilst very good just seemed a little lifeless.
Looking at at some Hoffmans and keebles but still very open to ideas/ advice. Hoping to take
daughter into Exeter today

Regards Jonathan

Reply/ Hi Jonathan

Hoffman is a reasonably good piano, Kemble would
be a better choice really...

You'd be best off with any of the follwoing makes:
Yamaha, Kemble, Classenti, Bohemia or Kawai.

Apart from being more well known, the above pianos
have a fuller, more resonant sound, and responsive
key touch. And their superior build quality offers
a longer, trouble free life.

The Classenti UP-112 is an upright piano I particularly
recommend...

It has a beautiful sound; a rich tone in the bass
and warm in the middle. The treble is crisp and
bright, but not overly bright like most pianos
from Japan and the Far East.

The Classenti is also a piano that will take
your daughter up to grade 8 and beyond.

The most important parts of the mechanism are
produced in Germany and other parts of Europe...

The more expensive materials do push the price
up a bit, but at least you can be sure you'll
get a quality piano with a great sound.

The Classenti is certainly the best value for
money in its price bracket.

You can read more about it here:
http://www.ukpianos.co.uk/classenti-up-112-polished-ebony.html

Yours pianistically,

Graham Howard

Further Questions/ Thanks for that Graham

I understand you buy these on line, where can you listen to them? Were in Tiverton between
Exeter and Taunton, Bristol us an hour away.

What is next model up like and how does the Classenti UP112 sound compared to a second hand
Yamaha U1, is there a new Yamaha upright acoustic model that compares favourably to the Classenti Up 112.

Jonathan

Further Reply/ Hi Jonathan

There aren't any shops stocking Classenti pianos.
You can only find them online.

We have some in our piano school in Enfield, North
london. But I guess that's too far for you to
travel too.

The Yamaha has a bigger and brighter sound than
the Classenti. The reason for this is the height
and size...

The Yamaha U1 is 121cm high versus 112cm for the
Classenti UP-112.

But, comparing sound, the Classenti has a warmer,
more pleasant sound than the Yamaha U1. I find
that all Yamaha pianos sound too harsh.

Yours pianistically,

Graham Howard

--

Hi Graham,

I know absolutely nothing about upright pianos but wish to buy one for my little girl to learn on. I have found one but am unsure about what is involved in transporting one. What precautions do I have to take so as not to cause it any damage internally or is it ok to transaport aslong as it it secured and not knocking about?

Also out of interest, not sure if you would know but roughly how much would it cost to have it transported from Welwyn gdn city to east london, roughly about 25 miles?

Thanks,

Hussein

Reply/ Hi Hussein

I strongly advise getting the piano checked out by a
piano tuner BEFORE you move it...

Most old pianos are in need of either repair or
extensive re-conditioning. And some are complete
write-offs.

Here's the phone number of a good piano mover:
Nigel Jones, 020 8803 2512.

Yours pianistically,

Graham Howard

--

I saw on yr website the classenti upright piano in white , with silent option for about gbp 4,000.

How does it compare with one of the yamaha upright piano, such as U1
(silent) or P121, both available in white for about gbp8,000 and gbp 6,000 respectively? Is the price difference worth you think?

I am not a professional player.. I just started again after many years of not playing, but still wish to get a piano of great quality right away (not only one for beginners/intermediate)

Thanks for your advice,
Eileen

Reply/ Hi Eileen

The Classenti UP-112 SILENT piano is certainly
a good one to consider...

The Yamaha U1 or P121 are taller, more powerful
pianos. You can get more volume out of these.
If used without the silent system, they can
be overpowering in a small room.

For the difference in price, the Classenti is
the best value for money.

Yours pianistically,

Graham Howard

--

Dear Howard

My sister just told me about pianoandforte in Macclesfield. When I
rang regarding a gloss white piano they said that they had a new
Carl Bernstein upright acoustic piano in for £1995, including delivery
and a stool. I couldn't find any information on the net. How do you
rate these pianos? I will go to see it on Saturday. Thanks for your advice.

Regards Robina.

Reply/ Hi Robina

I'm not that familiar with the Carl Bernstein pianos.

If you want to get something that's good value
for money then you should take a look at the
Classenti upright pianos...

Classenti offer a superb range of upright pianos.
They have a clear, crisp tone, and responsive key touch.

You also get a 15 year warranty.

Let me know if you would like more details.

Yours pianistically,

Graham Howard

UK Pianos

Further question/

Thankyou for your reply. A friend said that she doubts the Carl Bernstein
would go past grade 5 so I doubt I will be going for that model. I want a
piano that will last to grade 8 and will hopefully stay in the family.

The Classenti sounds great at that price- would it take my daughter to grade 8?
I wouldn't really be happy buying it without her trying it as she is quite
decisive about what she likes. She dismissed the Yamaha U1 models as they
were too bright. Is there anywhere I can try the Classenti range? Have you
got a picture of the Classenti UP112 in gloss white? Also, we saw a gloss
white Berlin May by Schimmel in Forsythes in Manchester for £3100, that my
daughter liked. What do you think of this model and its sound? Do you think
that is a fair price including stool and delivery? Your reply and advice
would be greatly appreciated.

Thankyou, Robina.

Reply/ Hi Robina

The Classenti would certainly be fine up to grade 8.
You can try the piano out in our showroom in Enfield.
We've got some white ones coming in the middle of June.

You can see a picture of one here:
Classenti UP-112 Polished White

Schimmel make nice pianos also. I think it would be
a close call between the Schimmel and the Classenti.

Yours pianistically,

Graham Howard

UK Pianos

--

Graham

Many thanks for a speedy response to my query on the Yamaha CLP330 digital piano.

I have a question why is it not wise to buy a real piano for about £500-£900. Is there something I should know about pianos in this price bracket. Can you expand on this area. Thanks.

Kind regards
Shamil

Reply/ Hi Suhail

If you buy a real piano (I assume it's second hand), then
spending under £1000 will usually get you something
VERY old. And, most likely, clapped out.

To get a decent second hand piano you should budget
for between £1500 and £2000. For new, £2000 +.

Yours pianistically,

Graham Howard

--



"Looking For My First Piano"




Hi,

I'm looking for my first acoustic piano at the moment and I'm not sure I should go for second hand KEMBLE or brand new THOMANN?

My local piano workshop recommend me one which is Kemble classic (late 70's??) and the price is £1000(including free deliver, first tuning and five year warranty). I was told Kemble is the only piano made in UK and it's very reliable. But if I spend £175 more, I can get a brand new THOMANN. (please see the following website)

http://www.thomann.de/gb/thomann_109_piano_up_schwarz_pol.htm

Have you heard about THOMANN uprights? Is it made in German? Is it good piano?

Could you please give me some advice?

Many thanks!

Caroline Meng

Reply/ Hi Caroline

I am so glad you asked this question...

Probably there are many piano buyers out there that
are thinking the same thing.

Here is what I believe...

Firstly, Thomann pianos are NOT made in Germany. They
are made in China!

There is, and can never be, a piano produced in Germany
that is for sale for less than £2,000.

Labour costs are just too high to produce anything of German
standard anywhere near this price.

The Kemble that's for sale in your local piano shop 'looks' like
a bargain. I cannot comment on the condition of this piano
without seeing it.

However, you ARE doing the right thing buying from a piano
shop.

I assume you are getting a good guarantee with it (2-3
years is average). If you are not being offered a guarantee
like this then ask for it. They should give it to you if it makes
them the sale!

If I were you, go and buy the Kemble. It is a better quality piano
than the Thomann. £1000 is also a very good price. See if you
can press them for a free delivery and first tuning free in your
house as part of the deal.

Let me know how you get on...

Yours pianistically,
Graham Howard
UK Pianos

Further comments/

Hi Graham ,

Thanks for getting back to me.

I viewed the Kemble on Saturday, the sound is really good! Unfortunately, the height is too low for me as I'm very tall. There's another piano looks good, the brand is " REGENT". Have you heard about this maker?

Thank you.

Caroline
Reply/ Hi Caroline

The Regent piano is made in China and has very heavy keys.
This makes it very difficult to play.

The sound is also bright and harsh.

Avoid the Regent piano at all cost!

My advice is to buy a Moutrie piano. This piano is also
made in China but is a much better quality.

I have personally tried every known upright piano that's
imported to England from China. Most are below par, but
I was very impressed when I saw the Moutrie recently.

You can read more about them here:
http://www.pianoplus.co.uk/new-pianos/Schumann/upright.html

Let me know if you decide to go for this piano. I might be able
to get a better deal for you.

Here's my number: 020 8367 2080.

Yours pianistically,
Graham Howard
UK Pianos

--

Dear Graham

I have found your email on the internet.
Would like to ask you what you think about S Ritter
pianos. I'm thinking of buying one but don't know if it is
good . I'm a beginner and want to start learning with my 7
year old son.

My choice so far is S Ritter 1500 pounds, or Kawai
2600 pounds both new.

Many thanks
Laila

Reply/ Hi Laila

Not tried the Ritter pianos. But at £1500 new it is likely the
pianos are made in China.

To get a decent quality acoustic upright piano that will last many
years, you should be looking in the £2500 - £3000 price range.

The Kawai would be a much better choice.

You might also consider the Bohemia 111 model, or the Kemble
Oxford. They are both around £3000 new.

Let me know if you need more help choosing your piano.
You can call me on 020 8367 2080 if you like. I'll point you in the
right direction.

Yours pianistically,
Graham Howard
UK Pianos

--

Hello,

When I moved into my house 6 months ago I found (behind all the rubbish) that the previous occupants had left an upright piano in the garden.

The make is 'Lestrella Piano', which is not a name I can see in the list on your site and no results come up in Google searches.

It is in poor condition as it seems to have been outside for a long time, so before I encourage the ivy to grow over it in an artistic manner, I just wanted to make sure it wasn't worth salvaging.

Kind regards,
Louise

Reply/ Hi Louise

'Garden pianos' are always complete write-offs. It only takes one shower of rain or a very cold night to ruin the piano beyond repair.

My advice is to get rid of it.

Yours pianistically,
Graham Howard
UK Pianos

--

Hi,

I'm a beginner and I want to buy a budget upright. There are lots choice on the UK market and I'm not sure which one is the best?

1. S.Ritter Sold by Jaques Samuel Piano, London
2. Weber Sold by Piano Warehouse, London
3, Steinmayer Sold by Piano Warehouse, London
4. W.Streicher Sold by Piano World London
5 Yamaha B1

I know most of them are made in China but not sure about Yamaha B1.

Also I know the sound of the budget pianos is not good as big one. There's a Japanese made Altas piano in my local piano workshop. But it is 20yrs old and the price is £1500 ( including 5yrs warranty, free local delivery, free first tuning and a free adjustable stool). This Altas has fabulous sound and good resonant, but I'm not sure if it come from " grey market " as I can see a lable in the cabinet and it tells me that the first owner is a school in Japan ( the lable is in Japanese and I can completely understand that).

Could you please give me some advice on which one I should buy? That's a lot of money and it's really difficult for me to make decision.

Many thanks!

Chao

Could you please give me some advice? Which one is worth to buy?

Thank you.

Reply/ Hi Chao

All of these pianos are made in China. Even the Yamaha B1.

I have tried all of these pianos out and my recommendation
is to go for the Atlas.

Every Atlas I have played has been a beautiful instrument
with a powerful, singing sound and crisp action.

Don't worry about it being 20 years old. Especially with a
5 year warranty, you will be fine.

If this piano is too big for your room then the Yamaha B1
is a good second choice.

The Yamaha comes out ahead of every other Chinese piano
I have seen.

Yours pianistically,
Graham Howard
UK Pianos

Further comments/
Hi Graham,

Many thanks for your advice.

I'm glad to let you know I've bought the Atlas piano.

Thank you.

Chao

--

Your lessons were great. the only problem is i havent got one to practise with. i'm looking forward to buy one. which brand piano is best to start with? i'm not interested in digital piano. sort of jazz or acoustic. what do u reckon?

hope to hear from you soon,
suzu

Reply/ Hi Suzu

Yamaha or Kemble acoustic pianos are among the
most popular.

You can read more about them here:
http://www.ukpianos.co.uk/upright-pianos.html

Yours pianistically,
Graham Howard
UK Pianos

Check out "The Upright Piano Buyer's Guide":
http://www.mi-pro.co.uk/buyers-guide/read/pianos/015817

More reading

Buy a Digital or an Upright Piano?
The Wonder of the Piano
Piano Care For New Piano Owners
Buying a Piano: a Decision Maker's Guide
How To Clean Your Piano Keys
Is The Piano Dead?
Find Out How Much Your Piano is Worth
Buy a New or a Second Hand Piano?
Piano Keys - Learn How to Clean And Repair

Related categories
Digital Pianos